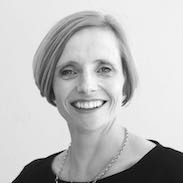 Marie-Claire Grady
Managing Director
"I'm told that one of the greatest skills I have is the ability to translate my day-to-day interactions into lessons on how to become a more customer-focused organisation. Useful? Absolutely!"
Marie-Claire Grady is a Customer Focus Specialist who helps leaders deliver results by aligning strategy with customer needs, and improving customer and employee experience to deliver strategic outcomes.
Marie-Claire has a unique ability to 'bring customers into the room'. She challenges clients to engage, observe and empathise to bring a range of perspectives to business opportunities or business challenges. Her 'Design Thinking' approach ensures holistic and fit-for-purpose solutions are delivered.
After successfully leading operational, project and consulting teams across a range of industries (Retail, Banking, Insurance, Construction, Manufacturing, Mining and Government), Marie-Claire founded 3rdView Consulting. Her clients value the insights, stories, and innovative solutions that come from such diverse experience.
Marie-Claire uses her strong facilitation, coaching and communication skills to engage and inspire teams. She has a reputation for professional delivery, remaining calm under pressure, and making the complex, simple.
Marie-Claire has made a significant contribution to the Brisbane community as a Member of QUT Council, Deputy-Chair of the QUT Alumni Board, and as a Mentor in the 'Fostering Executive Women' program.  She is an active member of school communities, including participation in the Brisbane State High School Teacher Excellence Award panel, and as a member of the Coorparoo State School Council. She was awarded a scholarship to attend the prestigious 'Women's Leadership Forum' at Harvard University in 2011, after which she co-founded the 'Australian Harvard Women' group.  Marie-Claire was awarded a Master of Business (International Management) at QUT in 2001 and holds a Bachelor of Business (Human Resource Management) from QUT.