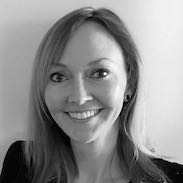 Yandra Calvert has a passion for making experiences simple, intuitive and engaging.  She takes concepts from design through to testing and into development, feeding user centred design principles into each step of the design process.
Yandra has over 20 years experience working in technology as a designer and front-end web developer. She is an established User Experience Designer with a strong media design and web development background.   Yandra has exceptional skills in UX, UI design, wire framing, prototyping, user testing, contextual inquiry, heuristic evaluation and front-end web technologies.
Yandra is endorsed by a great number of past employers and co-workers, as her diligence, and natural inquisitive nature make her a pleasure to work with. She has experience working in a wide range of industries locally and internationally, including superannuation, financial services, government and telecommunications. from long-term projects and quick iterative work, to freelance ventures.
Beyond mastering the tools of the UX trade, she also encompasses a broad selection of unique additional skills such as film, photography, graphic design, digital marketing and designing and developing numerous websites. She enjoys working as part of a team however is able to work autonomously if required.  In her most recent engagements Yandra worked on projects that were implemented using Agile methodology.